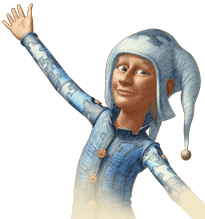 Hello Shortlives,
welcome to the world of
Jane And The Dragon.
I have so much to show you
I hardly know where to begin.
Perhaps by introducing myself.
I am Jester, the King's Fool, the Court's official food taster, and - most importantly - Jane's best friend. Her best shortlife friend anyway, no one can compete with the big reptile in her life. So these pages are my small contribution to the archives here at the castle. I have gathered together all kinds of

documents and every week I shall add new ones.

Fun Stuff will have some of the games we make for the Royal children.

Dragon's Diary is.. well.. his diary. I need to apologize for this, but Jane insisted we include it. Please excuse the language, the grammar, the subject matter and.. well, pretty much all of it.

Dragon Files are where Jane and Dragon record everything they have discovered about dragons. Some of it is from their research and some of it is just wishful thinking from his big greenness.
Jester's Jokes will have some of my very best jokes. (Gunther thinks this will be a blank page, but that is completely fine by me because I think Gunther is a blank page.)
Behind the Castle Walls has contributions from everyone here in the castle. Smithy will be telling you how his gadgets work. Pepper will have all kinds of advice to share with you, though my advice is not to act on any of it. And Rake has a great deal to say about vegetables, which says a great deal about Rake.
And this is just the beginning. There is much else besides, so come on in and visit the archives as often as you like.