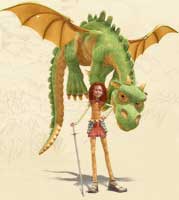 Jane And The Dragon fly into New Zealand on the 12th of May!
Watch their adventures on TV2 every Saturday afternoon at 5.30.
In Australia Jane is playing at 4.30 weeknights on the ABC.
In the US she is on Qubo on the NBC channel on Saturday mornings.
In the UK she is playing on Milkshake on Channel 5.
Jane is also on air in other countries. Please check with your local broadcasters to see if she is playing on a TV near you.